I'm really excited to welcome all my readers to a new series on the site: "The Beaches of the Virgin Islands". In this series, I will commit to the daunting task of exploring the best beaches in both the US Virgin Islands, as well as the British Virgin Islands. I know, it's going to be tough. But I figure I would take a step forward and review the best beaches on the islands, so anybody coming down for a trip will know exactly where to go upon arrival.
In addition to the well-known beaches, I am extremely excited to hunt down and locate the extremely secluded beaches for you. As I have now been here in St Thomas for 5 months building up the site with some information on my previous travels, I am now going to be moving towards writing about the local scene. I will be showcasing more and more of the Virgin Islands over the next few months, and reviewing the lifestyle and culture of the locals.


As this is the US Virgin Islands, I figure that the perfect way to start off this new direction is with the beaches! And with that, I have decided to start off with my favorite beach – so far.
Magen's Bay, St. Thomas, USVI
Magen's Bay is consistently voted as one of the top-10 Most Beautiful Beaches in the World. Fortunately, I have been lucky enough to find an amazing apartment with awesome roommates (for nearly half the cost of what I was spending in Chicago) located just a short 5 minute drive away from this world-renown beach. Beautiful white sand and turquoise waters make this beach number one on my list. The calm waters, vibrant colors, and overall limin' attitude of the people, keep me coming back.
Located on the North-Central coast of St. Thomas, USVI, the beach is located inside the Magen's Bay Park. First off; the park is massive, consisting of 68 acres of palm trees and other tropical foliage, a 6 acre arboretum, a 2 acre camping ground, 5 acres of coconut groves, and 15 acres of wetlands. In addition, parking is readily available at nearly all times. If you are not driving, it is usually not difficult to find a taxi to the beach, as there is a pretty consistent taxi concession. There is a really nice nature trail for those looking to do some hiking. It's not a large trail, but it is just enough to help get away from Charlotte Amalie and experience nature in some seclusion.
For entry, it's an easy and well-known route. It takes about 15-20 minutes to drive to the beach from downtown Charlotte Amalie. Entrance cost is $2 per car, $4 per adult ($2 per local). Entry is free for children under 12 ($2 for ages 13+). It is also free for the elderly and handicapped.
Beside the gorgeous park, trees, and trails, the beach is the main attraction. Again, for obvious reasons:
Magen's Bay has more than just pretty vistas. Legend has it that Sir Francis Drake used to sit in the Bay and wait for oncoming ships, in which he would then plunder. Magen's Bay beach stretches for nearly a mile, cutting just short at around ¾ mile. In addition to the beauty, there are a good number of amenities available. There are three bath houses located right along the beach. Also, there are four sheds available for rent, which usually hold private parties and activities throughout the week. Paddle boards are also able to be rented. Just turn right and walk about 100 feet north along the beach from the bar and food concession. Yes, there is a bar and a small restaurant, so you can thoroughly enjoy a full day relaxing on the beach while being provided the services of a fully stocked bar, along with a food concession that serves a full menu of basic beach food – Sandwiches, burgers, salads, etc. In addition, beach chairs, floaties, snorkeling gear, towels, and kayaks can also be rented.
Lifeguards are readily available along the beach, as well. So if you have kids, it is an ideal beach in which to make a trip. The area is great for people of all ages. At all times, you will see groups of kids playing in the water, teens and adolescents hanging out together, or adults laying out in the sun and/or enjoying a cocktail at the bar. If you feel that you've been in the sun too long, there are plenty of trees on the beach in which you can lay under with lots of shade.
A little tip: A small sandy extension of Magen's Bay, called Little Magen's, is a quiet and more secluded beach just a short walk away. If you are facing the water on Magen's, turn right, and then walk to the end of the beach. There is a short, rocky shoreline. Walk over the rocks, and plop on down to Little Magens. The beach here is usually very secluded, and makes for a nice spot for some relaxation with a different perspective of the bay. In addition to seeing an extension of Megan's Bay, you may see some bare body parts. Yep, just be aware; Little Magen's is unofficially known as "the nude beach on St. Thomas." Nudity is illegal on the island, but is often just overlooked here.
Magen's Bay is not a spot for surfing, as the peninsula to the north (Peterborg) and the mainland to the south significantly limit wave activity. For this reason, the locals joke about it, saying Magen's is the world's largest swimming pool. Also, snorkeling is somewhat limited, due to the sandy bottom that covers nearly the entire area. But if you are looking for a top beach destination, both large enough to find some conclusion, and small enough to interact with others for some fun in the sun, then this is the beach for you. Take a short drive on over, test out the warm waters, and sit back with a Painkiller, limin' the day away.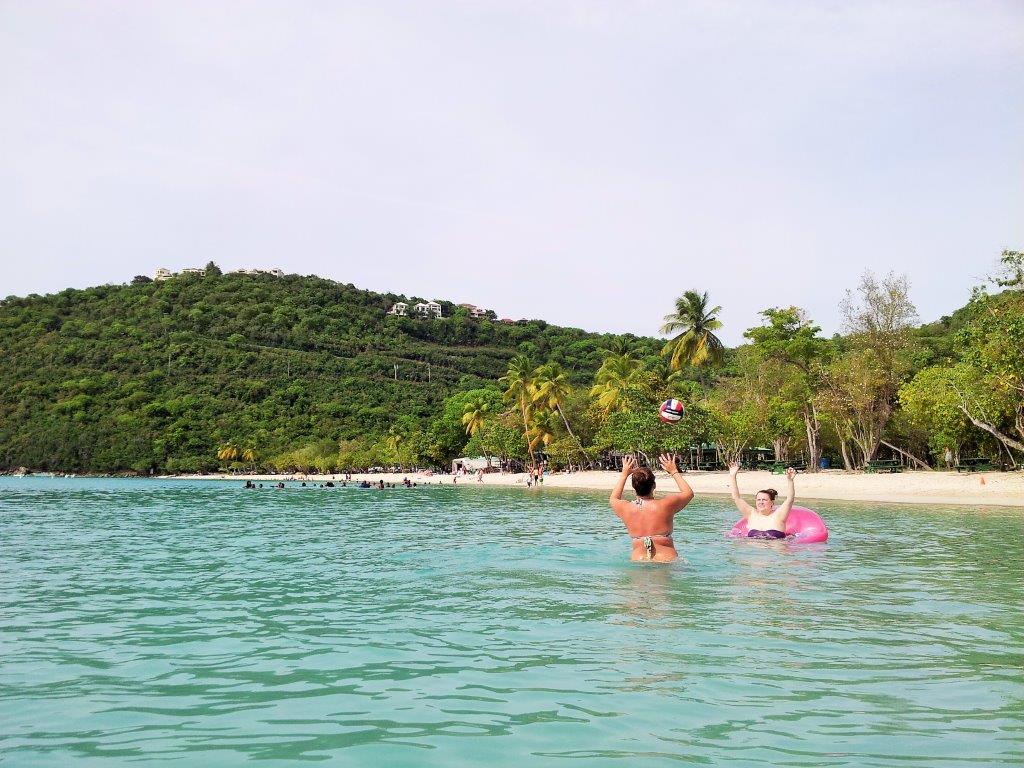 Related articles