I honestly did not know what to expect upon visiting Lima, Peru. In the months leading up to this destination, I had heard an array of stories about how wonderful Lima was. I heard stories about how delicious the food was. I had heard stories about how beautiful the coastline was. I heard stories about how wonderful, kind, and helpful the people were. And yet, in contrast, I had also heard about how poor the living conditions were. I had heard of how dangerous the public transportation and taxis were. I had also heard, more than any other place, to keep your belongings tight to your person. By the end of my trip, I had only experienced one side of the story.

The one thing that stands out most, when people ask me how my experience in Lima went, is that the food was The Best Food I had experienced in all of South America. After all, Lima is known as the "Gastronomy Capital of South America." With an influx of Asian cuisine, some North American specialties, and an array of dishes from all across South America, the central heart of Peru has become a melting pot of numerous cultures' dishes, and they do a damn good job with them. The mix of Chinese and South American cuisine was especially delicious. It's a blend that is prominent throughout the city, in restaurants called "Chifas." Be sure to check one out for an authentic experience. More than anything, I advise those looking to go to Lima to partake in any activity that involves devouring more food than your stomach can handle. You won't be disappointed.
I entered Lima, Peru, via the main airport, Jorge Chavez International Airport. The bus ride from Santiago De Chile would have been incredibly long (30+ hours, more than I could handle). One thing that I will advise, that I did not do, is to hire the certified taxis from inside the airport terminals. These are reputable companies and are safer than using the taxis outside of the airports. I had read up on the possible danger of using the taxis outside of the airport. Several people had told me "stories" about how an accomplice of the taxi driver would hide in the trunk of the car. During the trip, the accomplice would pop out from behind the seats and hold the passenger by knifepoint, demanding money, and eventually throwing the passenger out of the car. Being young and wanting a little adventure, I decided to try out the myth! As well, being able to speak Spanish to the driver, being 6'2" and into working out every day, probably made any possible hijacker second guess themselves. Luckily, and expectedly, I had absolutely no problems with the taxis in Lima, so I don't have a very interesting story to tell here. Sorry. Every driver was incredibly accommodating and professional. But just to be on the safe side and to make you feel more comfortable, do as I did, and ask the taxi driver to open the trunk, in order to view inside, before each ride.
Any taxi from the airport to downtown should cost you around $10.00. Just a heads up; you will notice poor neighborhoods on your way to the downtown area. It quickly becomes obvious that there are varying degrees of class and social structure in the city. A large number of people from these poorer neighborhoods have come to the city from the poor mountainous areas looking for work. With eight million people in the city, Lima is home to 1/3 of the entire population of Peru, with many still looking for work. Just keep this in mind, as it is experiences like this that make you realize how different living standards and situations are around the world… especially far from nice, comfortable, small-town America.
I stayed at Eurobackpackers Hostel (bookable through HostelWorld) for a week. This hostel was a great choice – Quiet in the bedrooms, a party area in the back bar/lounge area, and the perfect location in the Miraflores neighborhood. Miraflores was not what I expected. It was beautiful! In fact, I now say it is the most beautiful neighborhood in South America that I had experienced, possibly competing with only El Poblado neighborhood in Medellin, Colombia. This neighborhood is highly geared towards tourism, so there is significant police presence, clean streets, leisurely activity and entertainment, amazing restaurants, nightlife, and a comfortable, enjoyable, overall environment. It makes a great base for venturing out to different areas of the city.
The most obvious place to start in my opinion, is the coastline.  Lima is set up along the west coast of the continent, opening up to the Pacific Ocean.  The city has done an amazing job maintaining the grounds along the coast, which include a walking path that is perfect for a stroll at any time of the day, a skate park, a basketball court, a beautiful green area called "Parque del Amor (Park of Love)," and incredible ocean views that go on for miles. All along the coast, especially at Larcomar Mall, you can find great restaurants and cafes to just sit back and enjoy the views. It's especially entertaining to see the para-gliders flying up and down the coast. Better yet, try it out for yourself!
Take an afternoon stroll to the Barranco neighborhood; a cool, trendy area, just South of Miraflores. This neighborhood has a great bar and restaurant scene, with very reasonable prices. At nighttime, clubs and shows (with traditional dances) are packed, providing good entertainment within reasonable distance. Be sure to walk around the neighborhood and get a feel for the bohemian atmosphere. Especially on weekends, head over on foot to enjoy the outdoor food markets. The neighborhood holds "A Taste of Barranco" which puts foods and drinks on display tables, all at reasonable prices. You'll also see musicians playing throughout the streets.
Be a tourist for the day.  I found Lima to be a fairly confusing city to traverse. The neighborhood borders are fairly difficult to distinguish. I found it a good idea to book a tour of the city. In central Miraflores, there is a bus tour called Mirabus, which starts at the end of Parque Kennedy. You can purchase a ticket at the booth, and decide whether to hop on for the 9:30am tour, or the 2:30pm tour, Monday-Sunday.  This guided bus tour will take you for 3 hours around downtown Lima, experiencing the architecture, churches, market centers, the Plaza De Armas, and the old side of the Capital. You'll also pass through several residential neighborhoods in districts on your way to the Larco Museum. This historical center holds thousands of relics and pieces of art from the Incan empire, as well as pre-Incan tribes, dating back thousands of years. One area of "interest" to note – There is a large collection of erotic pottery. Be advised if you're traveling with kids!
When in Lima, it is mandatory that you take a culinary tour. I would have to say that this was the highlight of my trip to Lima. There are many culinary tours in Lima, usually offering the same thing, but the one I chose was Limavision. This tour allowed me to experience, up-front, the old San Isidro food market, where we got to see the way things are run among the vendors. Several specific vendors showed off their produce and seafood. We were allowed a few minutes to purchase whatever produce we desired, either for a quick snack, or to hold on for taking back to our accommodation. We were then driven over to a spectacular restaurant, La Rosa Nautica, located right on the ocean coastline. The tour culminated inside the restaurant with a dinner comprised of amazing seafood, including the national food, ceviche, which is raw fish mixed with lime juice, onions, peppers, and cilantro. Be sure to raise your hand when they ask for volunteers! You will be able to learn how to prepare your own ceviche, as well as learn how to make the national drink of Peru, Pisco Sour! This was an awesome experience. Although touristy, it makes a great introduction to the culinary scene, and is nice to be taught how to make the national Food and drink in such a fun atmosphere.
In addition, it happened to be on the day of a national holiday – Independence Day (July 28th). After learning about Pisco Sour and Ceviche, I asked to be dropped off near to the Parade that was going on throughout the town. Floats rode on for hours, with people celebrating in the streets until the early morning hours.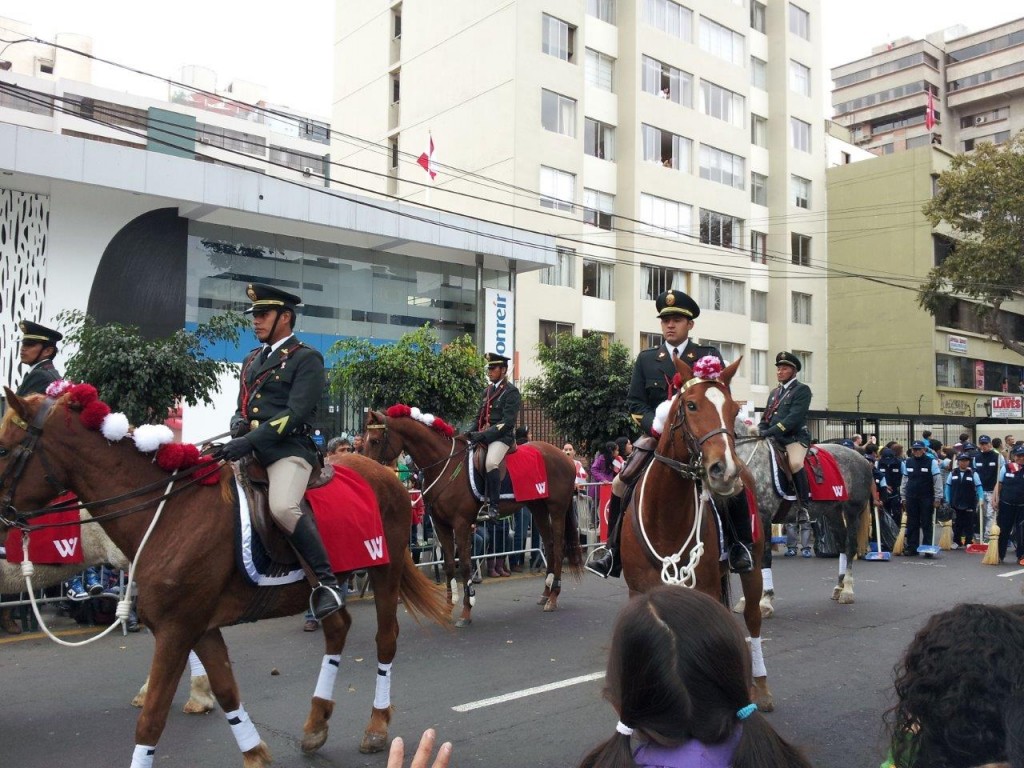 If I could add any insight or advice regarding the people of Lima in which the traveler should know, it would be: Make friends with the locals. Wherever you are (if you can speak Spanish), just talk to the locals. I was stunned at how responsive and interested the locals were to my foreign self. I made multiple friends, just by saying hello and starting up random conversation. Several days and nights, I was invited to spend with people of my age, going around the city to areas that I would never have even thought about going. I have to confess, too – I did not even think about whipping out my camera, taking photos for memory, jotting down the nameless joints of places to eat, (or joints in which we smoked some joints!). Some memories are best left to yourself. And some of the fun I had in Lima, should be left that way.
Lima sometimes gets a bad rep, such as pesky taxi drivers, or a gloomy landscape. I have nothing bad to say about the city, or the people, or the establishments. I enjoyed myself thoroughly, and look forward to finding hidden gems on my next visit. Overall, it made for a great, memorable trip. This is one city that I will make a visit back to in the near future. To any adventurers heading over sooner, go easy on the Pisco, and prepare your bellies.

Related articles