A common occurrence one finds after moving to St Thomas, is that the locals have considerable respect for the other surrounding islands in the area. This is very different from the competitive (usually friendly) nature of US residents residing in larger cities, comparing their city's accomplishments & stating that their city is better for this reason or that reason. But talking to any person living on St. Thomas, you will see that they rave about their other US neighbors – St. John, toward the East, and St. Croix, toward the South. There is very little competitive feeling – More of a mutual cooperation among the residents, and admiration for the beauty of each island.

This is also true when talking about their British neighbors lying to the East, in the British Virgin Islands. And there is good reason for this – The islands are surrounded by beautiful shades of blue, green, and turquoise waters, adorn with hilly landscapes of gorgeous greens, tans, and yellows. The people are friendly, welcoming, and share in the overall relaxed attitude that one would expect from living the island life.
This is also a major reason why so many locals take day-long or weekend trips out to the surrounding islands. After all, being stuck in one paradise can get old after a while (insert sarcasm, here). Living on one island works as a great base for exploring the others. And with all the islands being so close in proximity to each other, a short ferry ride is no problem for such a great reward. I recently had the privilege of being able to take a day-trip out to one of these islands, as well as the immediate surrounding areas; the island of Jost Van Dyke. This piece of paradise is a favorite for both locals and tourists, satisfying all the preconceived notions and ideas of anyone looking for the island paradise imagery. And it does even more.
I set out in the morning with a group of friends, visiting from Chicago. A quick ferry ride over to St. John the night before, set us up with a relaxed morning commute by taxi to the Cruz Bay docks, where our Captain was to pick us up. A common method of traveling out to Jost Van Dyke is through a charter boat. In this case, we chose a well-respected and well-known company, Water's Edge Sports. Our captain, Nick, welcomed us with open arms and a cheery attitude. He gave us a great experience, answering whatever questions we had, guiding us with ease through the waters, informing us of every destination we were going, and giving us recommendations and options of where to go next, all along the way.
Our first stop was at Great Harbour, a white-sand beach adorned with beach-front restaurants, shops, and bars. The area is also known simply as "Foxy's" due to the well-known bar, "Foxy's Tamarind Bar." Along the 1000-ft. beach path, several bars and restaurants beckon you to come inside, or sit on the patio chairs, and enjoy a drink. It is extremely difficult to pass on this opportunity. It's even more difficult to pass on the 2nd drink. Taking a walk along the path provides great views of the beach, along with a pleasant view of the nearby village homes, church, and an old cemetery that reminds you that people actually do live, and die, in this island paradise. Sticking around for a quick chat with friends while lying down and/or napping, in a hammock, is the perfect way to enjoy your remaining time here.
After about an hour, our captain called us back on board so we could set course for our next destination; A tiny little strip of land called "Sandy Spit." This strip of white sand, atop with some coarse brush and small trees, is also known as "Corona Island," as the famous beer label once filmed a commercial here. Upon arrival, this strip appears to come out of nowhere, looking to be about a 300 foot long landing strip of white sand and pure awesomeness! This is the type of imagery that most people have in their heads about how paradise should look. We took a short swim in the warm waters, walked up to shore, took a stroll around, and sat down on the sand with a cool drink in hand. Another short swim in the turquoise water was just what was needed to cool down our sun-burnt skin after spending about an hour on the sand.
We then decided it was time for some lunch. Our captain knew just the spot – Foxy's Taboo! A restaurant/bar within sight of Sandy Spit, serving amazing dishes, both local and more common, such as pizza. The restaurant offers itself as serving Mediterranean food with flair. All of our dishes and cocktails were more than satisfying, as we were all hungry from the round of events and activity experienced in the prior hours. A quick 20 minute nap, along with a Bushwacker (a cocktail mix of dark rum, Kahlua, crème de cocao, coconut rum/cream, topped with nutmeg), on the restaurant hammocks, was the perfect dessert!
After helping aid the digestion, I woke up from my nap, being beckoned to get back on the boat. Reluctantly wanting to leave my hammock, I walked back onto the boat, and was told we would soon be on foot at the infamous "Soggy Dollar" in which I had been hearing so much about since my arrival on St. Thomas. We took a quick drive over to White Bay, which was packed with boats, many more than we had seen the whole day. The long stretch of beach was lined up with people walking along water, taking in the sun, drinking the famous & native "Pain Killer" cocktail (a mix of Pusser's Rum, pineapple, crème of coconut, and orange juice, topped with a generous sprinkle of nutmeg). We trudged on over to "Soggy Dollar," where a little party was going on to the sounds of a live musician playing multiple genres, including reggae and American country, on his guitar. After taking in the atmosphere for about an hour, we walked the beach and did a little people-watching.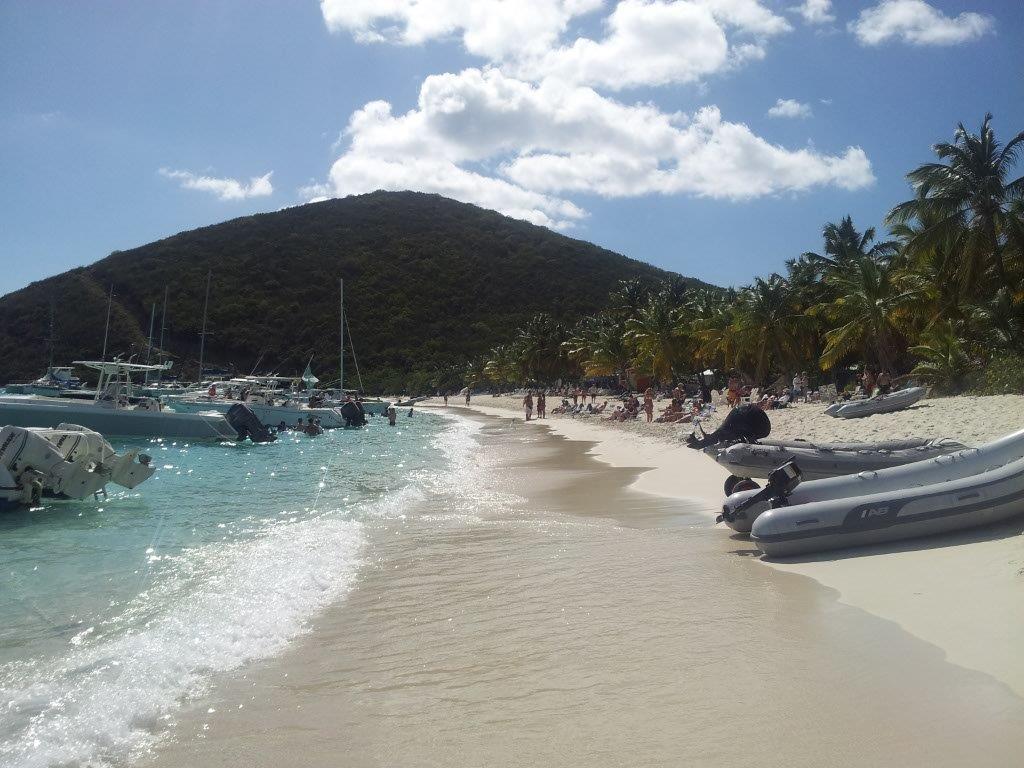 By this time, the sun was starting to set, and we knew it was time to head back to Cruz Bay. Within a flash, our captain was bringing us back to the place in which we had begun the day. Kissed by the sun for too many straight hours and a few rum-cocktails into the late afternoon, the cool breeze of briskly riding through the waves was a perfect in-the-moment sensation, as the scene of various islands over the setting sun shown in the distance. I am hard-pressed to think of a better way to spend a day-trip anywhere else in the world. I guess I'll just have to compare some more day-trips to the other nearby islands, non-competitively, of course.
Related articles